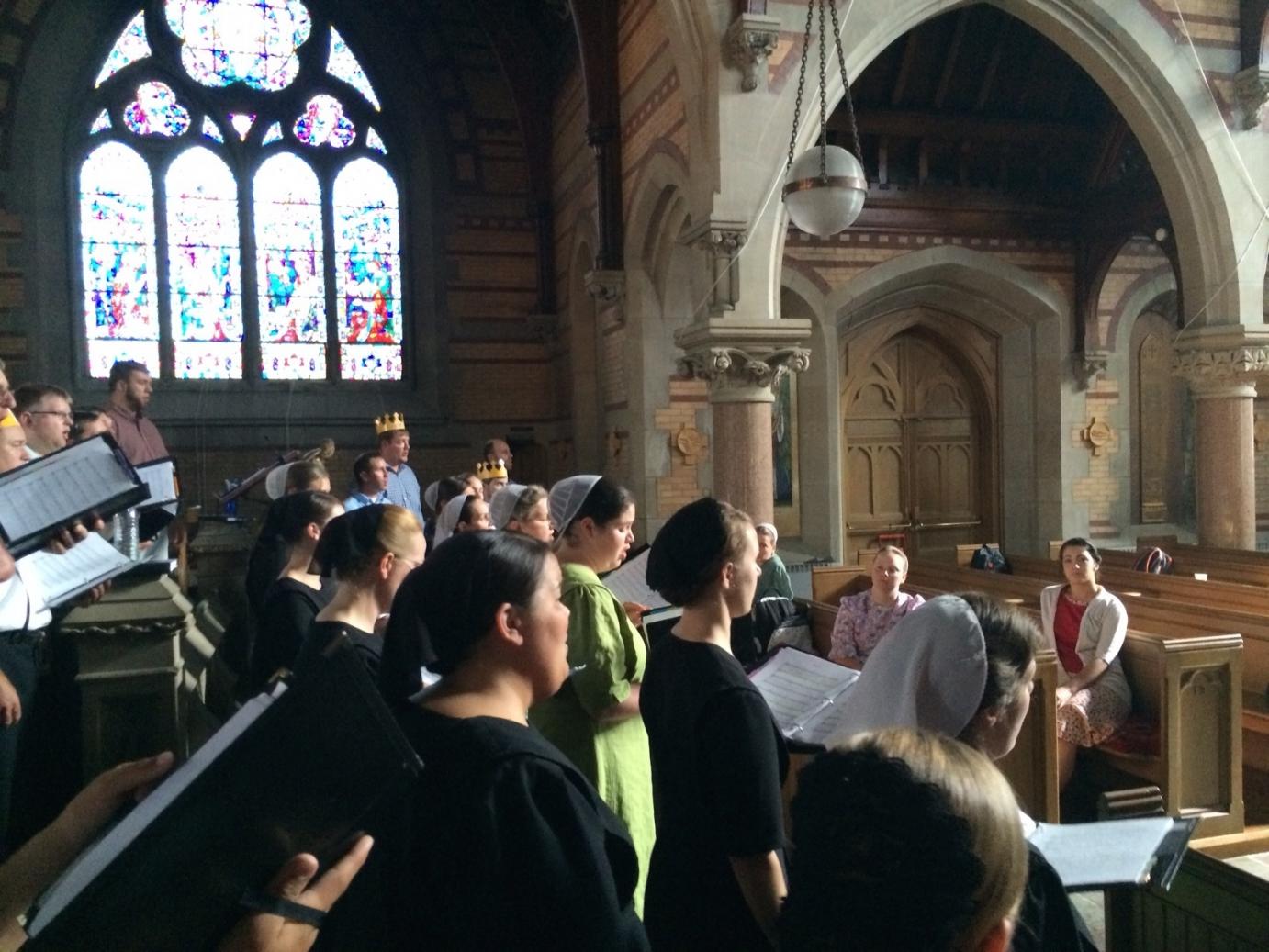 "Rise up, follow Me, Come away, is the call, With My love in your heart as the only song…"
Michael Dennis Browne
He is calling us away, and filling our hearts with His love.
Tonight we are overwhelmed with the incredible outpouring of support from our Lebanon Co. audience. The nave at St. Luke's was filled beyond capacity, chairs were placed and the aisles had eager listeners standing in rapt attention.
From the opening fanfare of "Shout for Joy" through the tender longings of "I Sing of Your Mercies" to the robust and celebratory encore "Ride On! King Jesus" singers and listeners were lifted to the presence of God. Even though the summer evening was warm, and our audience had many families in it, the babies were still, the children attentive, and folks were reading the program notes to discover details about our beloved craft. Again, we can only give praise to God for our supportive Mennonite brothers and the hospitality from the Episcopalian Church for this singular worship experience.
Ice cream cake is becoming a tradition for celebrating birthdays of the choir members. Today we celebrated Franklin Miller's 30th birthday. In the course of the day we sang for him twice. These chorale people sure know how to make life events epic. What a joyful community of friends!!
Tomorrow we will gather at St. Luke's once more, to pack up our belongings, organize and prepare for flight to Dublin, Ireland. At the current level of interest, we are comforted by your prayers and monetary support for the work. Pray for Oasis Chorale as you are moved by the Spirit and have opportunity. Some things that we are mindful of are traveling safety, Logistical details, Luggage arriving at the proper places and not being lost, meaningful connections with audiences in Ireland, Wales and UK. Our focus remains in lifting God's Holy Name higher than ever before while we sing and serve the music.
Joseph Ebersole