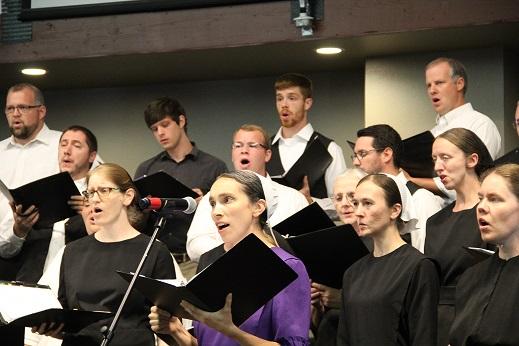 We worshiped with the Pleasant View Mennonite Congregation in Arthur, Illinois. We shared a few songs from our hymns and choral repertoire and took in a sermon on Phil. 1:1-11 by Matt Bontrager.
After enjoying a scrumptious meal at Pleasant View, we spent the hours before our 4:30 concert rehearsing and getting standing arrangements. We also prepared two pieces, "Give to Our God" and "O Happy Day", with a local community choir.
The venue at Penn Station was quite different structurally and acoustically than Central Christian Church in Decatur. However, our audiences were similar in that they came to receive our message and by God's grace and for His glory, we gave it.
We at supper after the concert at the home of Vernon and Christina Kuhns. The evening was cool and we chatted and relaxed before heading back to our hosts for a long night.
Kristin Nolt
Alto ll