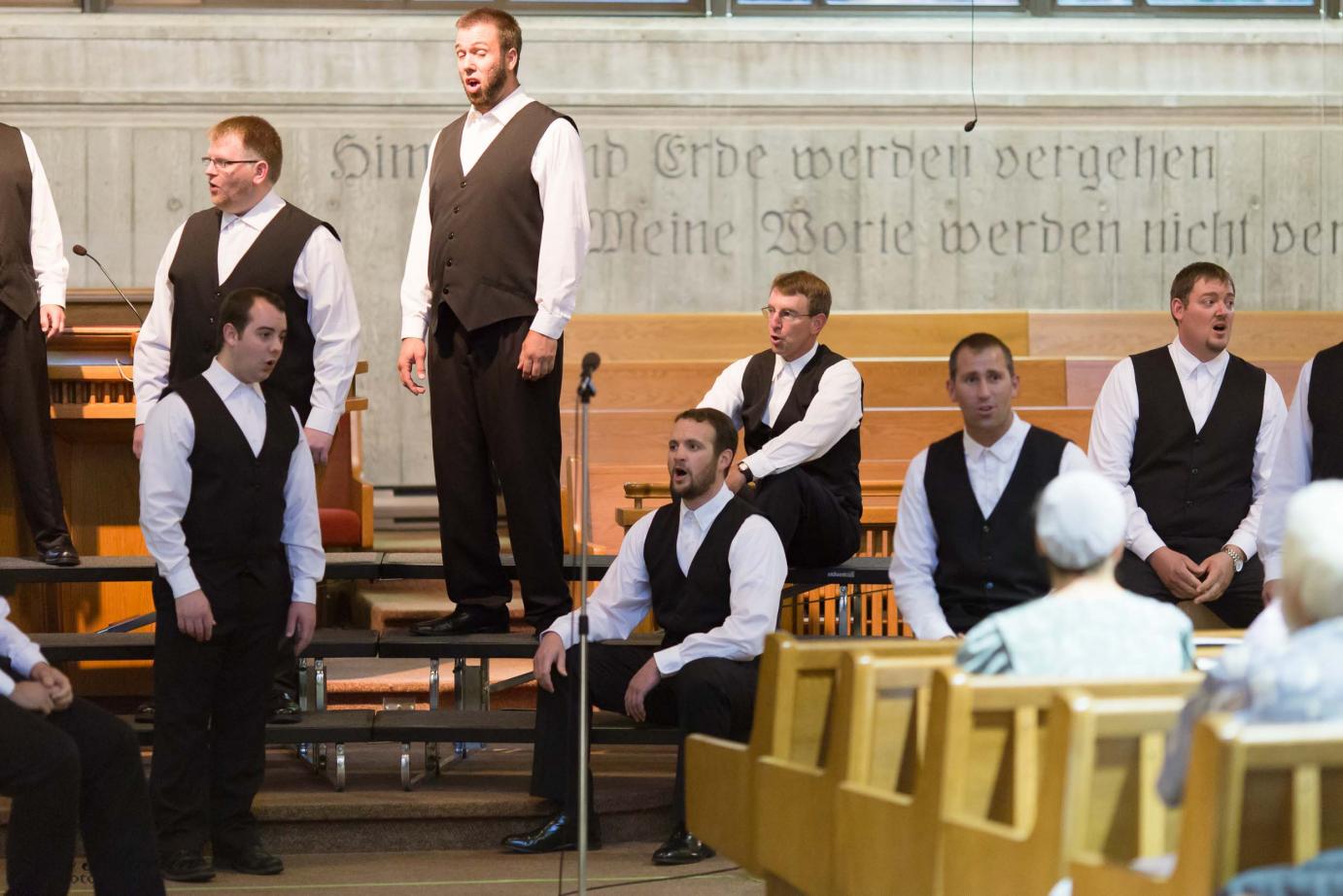 After 2 full days of rehearsal, we shifted gears today, going on the road for the first time this tour and preparing for our first concert. We met at Sandy Ridge at 8:00 on a drizzly morning, meeting our driver Marvin Martin and his wife Verna. After the luggage committee got a system in place and loaded everything, we hit the road for Ontario! The air was abuzz as old friends caught up, new friendships were deepened, and some put in personal rehearsal time.
We had not planned to stop till lunch, but the effects of adequate hydration facilitated a rest stop mid-morning. We stopped for lunch at Briarwood Mall in Ann Arbor, MI, with Chipotle being a popular choice. Then a short drive brought us to the Canadian border. Short staffing required us to go in to have our passports checked, but it may have worked in our favor, as we were through in less than 15 minutes!
Bill Bergen, a former OC member, met us at Leamington United Mennonite mid-afternoon. Further fine-tuning of our rep and working on changes for the standings throughout the program preceded a delicious meal of sloppy joes, salad, and bars for dessert. After preparing ourselves for the evening musically and physically, James read us various poems to stimulate us spiritually. An especially powerful one spoke of the author remembering only one incident where a little boy was unforgivably rude out of his numerous months spent in that city. It reminded us of the tremendous power for good or evil in the smallest exchanges.
Then on to our first concert! Though far from perfect, it was a solid program, both ministering to us and well received by a diverse audience. We were then taken into the homes of our generous hosts, fed and trundled off to bed after a full but rewarding day.
A side note: The Bass 2 section at times shows their solidarity by elevating their right hands with little finger extended, in support of the one of us who doesn't get to choose whether or not he uses this position. 🙂 The new bass fist bump involves left hands held up in this position, bumping the back of the hand rather than knuckles.
Special thanks to those who have prayed for my hand. It has been primarily unhandy (!) rather than painful.
Gene L Miller
Bass