Hello, folks. The trouble with being a perfectionist is that you carry around this burden to always do your absolute best. In fact, the burden is so large and heavy that most perfectionists are hunchbacked. Take Christian from Pilgrim's Progress, for example. He had a tremendous burden on his back and while Pilgrim's Progress doesn't explicitly state his hunchbacked lot, all the illustrations of Christian that I've seen show him nearly bent double. This explains why OC is populated by so many hunchbacks.*
Saturday dawned warm and muggy. However, by the time I finally roused myself, the sun had been in the sky nearly three hours already. Was I going to be late for rehearsal? No, I was not. We had a late call time of 12:30 at Neffsville Mennonite. After some deliberating with section leaders on Friday, Wendell announced that we would skip the Children's Album rehearsal scheduled for Saturday morning due to the disease and exhaustion among the ranks. An alarming number of people were fighting colds and low fevers.
So, we took the morning off and met at St. Thomas Episcopal Church for lunch. As a cool addition, Mark and Judy Barker joined us for lunch. Mark and Judy are long-time friends of OC ever since OC sang at their church back in 2012. After lunch, we went into rehearsal. After a rousing warmup regimen (including a song about stopping a train), we invited Mr. Barker to sing "Who is on the Lord's Side" with us. It's a favorite of his, and as he turned eighty this year, we thought singing with him could be something of a birthday present. After this, we went right into rehearsal.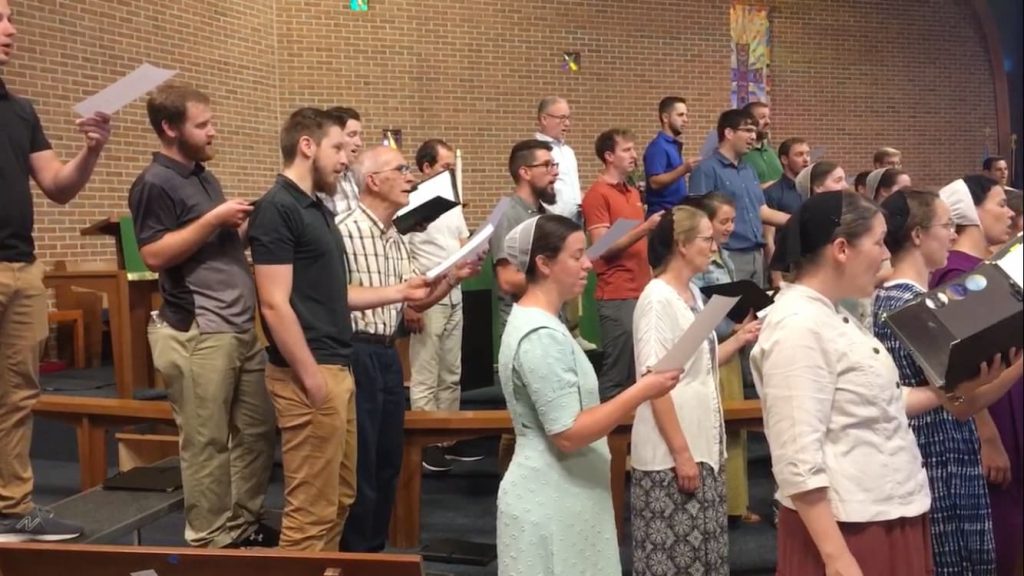 At 5:00 pm, we had a stress-free photo-shoot, thanks to Kyler. It's such a blessing to have him as a brother-in-law. Following this was an incredible supper. Grilled chicken, lettuce, tomatoes, pickled onions, cheese, and tzatziki, and pita or naan stuffed us to the proverbial gills.
When 7:00 came, we were ready for it. Summary of the concert: most pieces felt very settled—many of the ones that we consistently sharped stayed in key. It was also very quiet—there were very few disturbances and it was easy to focus and listen well. The space was quite nice to sing in as well. According to my brother David, "It was fun." Overall, it was probably our best concert yet this year.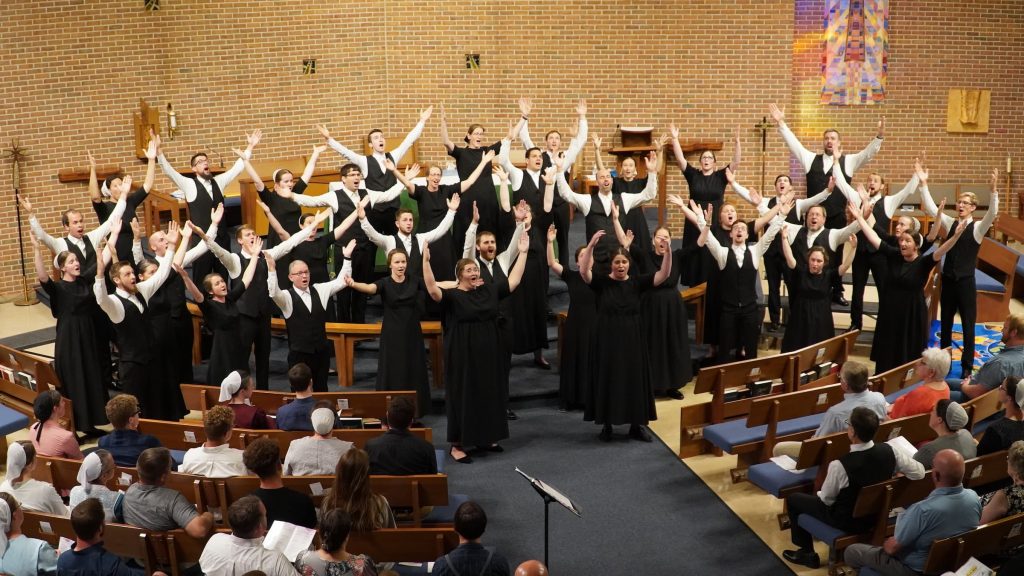 Afterward, the audience members and the choir headed to the ominous Parrish Hall for some hors d'oeuvres. We had a lovely time with the audience over watermelon and cantaloupe (cut by Hilary and her parents), seasoned pretzels, and donuts. I was privileged to meet fellow bass Jordan Drudge's parents and younger brother, Justus. I also talked briefly with a man from North Carolina who drove up for the concert. I was left somewhat speechless when he told me that. According to another audience member, the concert was "achingly beautiful." As a new member of OC, I find it very rewarding to share beautiful music with others in a way that moves them and inspires them. At the very least, this music shows us something greater, more beautiful, and more compelling than ourselves or the world around us.
Ta-Ta for now!
Joshua Miller
Bass 2