With minimal travel time today, we enjoyed the luxury of a slow-paced morning. Having a good first concert under our belts also boosted our energy levels and feelings of well-being.
We kept the employees at Coronation Cafe in Amherst quite busy as we crowded their small place for lunch. They did a great job of preparing food and specialty drinks for us.
Church of Christ in Granby, Massachusetts, was our destination for our afternoon rehearsal and evening concert. The only downside to singing in this classic, white-spired New England church building was its lack of air conditioning. A lovely thunderstorm accompanied part of our rehearsal time and brought some welcome respite from the heat.
A challenge in tonight's concert was to add the sign language and movement that Deana taught us to "Ukholo Lwami." This resulted in varying degrees of enjoyment, panic, and mental scampering among the choir members. Overall, it was a delightful concert. Our desire as we sing is to give our listeners a glimpse of the coming new heavens and new earth. Judging by comments I heard after tonight's concert, I believe that goal was accomplished.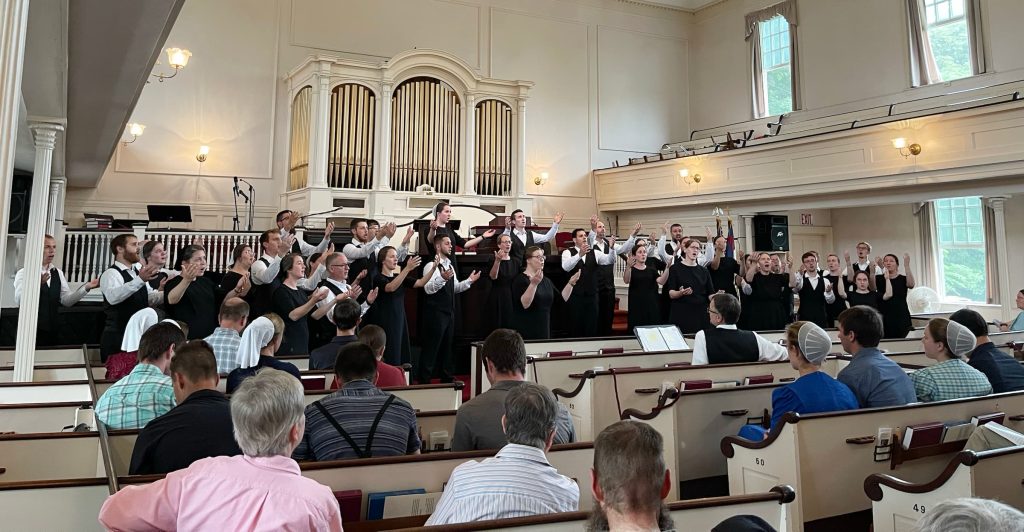 While some choir members disbursed with hosts from Disciples Fellowship, the rest of us rode the bus to a hotel. Some of us had a hilarious time figuring out how to run the hotel laundry and how to get everyone's choir uniforms washed efficiently. Little things like this are all part of the choir tour experience, and it's best if you learn to navigate them with a gracious sense of humor.
Rosalie Beiler
Alto