Tuned chords, Boris Johnson, sweet bologna sandwiches—Oasis is a threefold chord of beautiful music-making, satisfying conversation, and delectable food. Today featured all three. After a morning of bus time, we arrived at the Windmill Bake Shop in South Boston, VA, for lunch. They fed all 50 of us in short order in the middle of their lunch rush.
We got to First Baptist Church (there are a lot of those) earlier than normal, giving us a good chunk of movement and music rehearsing time. A half-brownie and ice-cream dish at lunch time had sent our director into a unique mood; the rehearsal was seasoned with Wendellisms.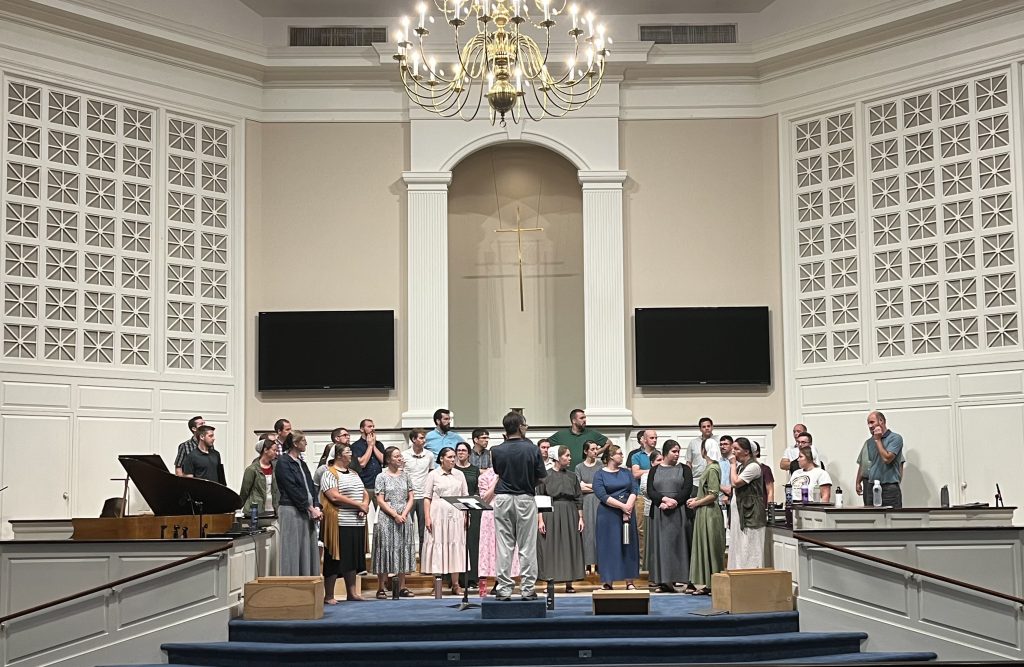 Before every concert, we spend time as a group in spiritual refreshment and preparation. Rosemary led us in a meditation/relaxation exercise on the theme of God's lovingkindness. She encouraged us to let go of the shame we often carry and allow ourselves to feel the compassion of the Lord.
One of the gifts I have been enjoying this year is singing the song, "Be Still My Soul," an arrangement by C. Rand Matheson. Tonight was no different. The luminous chords coupled with a timeless text is moving. "Be still my soul, the hour is hastening on, when we shall be forever with the Lord, When disappointment, grief, and fear are gone; Sorrow forgot, love's purest joys restored."
In his closing comments, Josh Good spoke of the fear all around us and within us. He reminded us that we don't have to fear because Jesus Himself is our leader. My desire for the audience at First Baptist is that this music renewed their hope in Jesus and the peace that He brings.
We trekked the 3.5 hours back to Harrisonburg after the concert and arrived safely. Thanks be to God and to our faithful bus driver for the smooth travels we've had on our tour.
Cari Nolt, Soprano 1