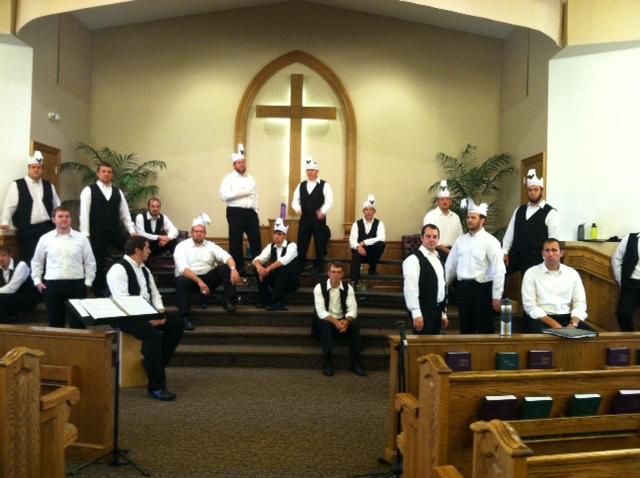 Sunday morning found us at Sandy Ridge Mennonite Church, listening to an encouraging sermon on how we are pilgrims and strangers on the earth. With all the traveling we've been doing the message had even more meaning. After the service we sang four songs with the Sandy Ridge Choir and then enjoyed a bountiful, scrumptious fellowship meal.
The afternoon found us back at Sandy Ridge working out our blocking, entrances and exits. The basses "surprised" us one last time (we have almost come to expect unusualness from them) by wearing swan hats from Stratford while we practiced our exits. The concert began at 4:00 and was so full that several rows of chairs were filled in the fellowship hall as well. The Sandy Ridge Choir joined us and we enjoyed singing with them again. At the end of the concert we were asked to introduce ourselves, tell where we were from and what jobs we held. Then we were asked to sing an encore of "Whispering Hope". We joyfully obliged, happy to have the chance to sing just one more song together.
For dinner we were again invited to the home of choir members Kenda and Sarah Miller where we enjoyed dinner, dessert, and fellowship. We stayed until after midnight discussing music, art, culture, Rosie and Phil's engagement stories, and just relishing each other's company. After breakfast at a restaurant in the morning, we will each go our separate ways, back to "real life" as we sometimes call it. We truly cherish these special days together singing, laughing, pondering, and praying together.
Goodbye Oasis 2015! God be with you 'till we meet again.
Deana Swanson
Alto