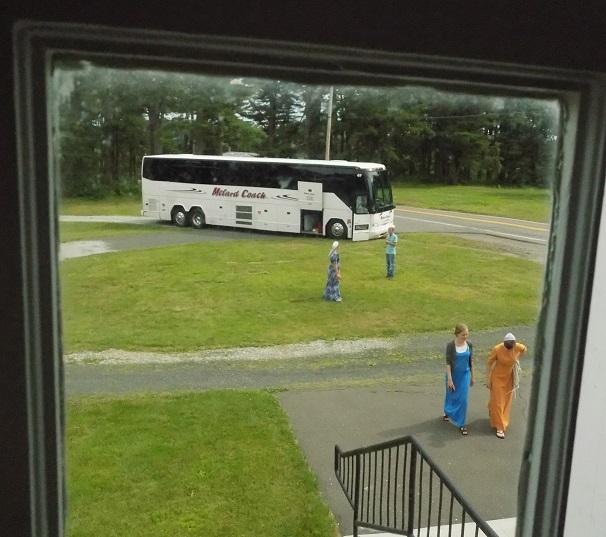 We started out bright and early from Rockland, ME with a 7:00 call time. Our hosts fed us well, several even sending food for the road as well. We bade farewell to this beautiful waterside church where the pastor's study featured a view out over the bay and lighthouse. Quite a few of us bedded down to rest on the first stretch. After an early rest stop near Panera Bread for refreshment and bathrooms, we resumed our southward journey. Lunch break found the majority of us at Olive Garden, TGIFridays, or Chipotle'.
We arrived at the beautifully restored, historic White Church of Blandford, MA for rehearsal and standing arrangement time. As singers doing our best to stay well hydrated in advance to maintain vocal health throughout the rigors of tour, our enjoyment of this lovely visual and acoustic space was tempered somewhat by fervent anticipation of our turns in one of only two bathroom stalls. Supper was served by our hosts at Pioneer Valley Mennonite Church; Joe assured us before arrival that accommodations there would be more commodious. This brings to mind my winning entry in the Oasis limerick contest on Ireland Tour '14:
There once was a choir named Oasis,
"Sing wet and pee pale" was their basis.
To each venue they'd go,
Water bottles in tow–
"Hope it's not one of those 'single loo' places!"
In spite of weariness among the group, the concert was solid, connecting with the hosting church and community folk alike. Bed was a welcome sight after a long day and anticipation of an even bigger travel day tomorrow.
Gene Miller
Bass II