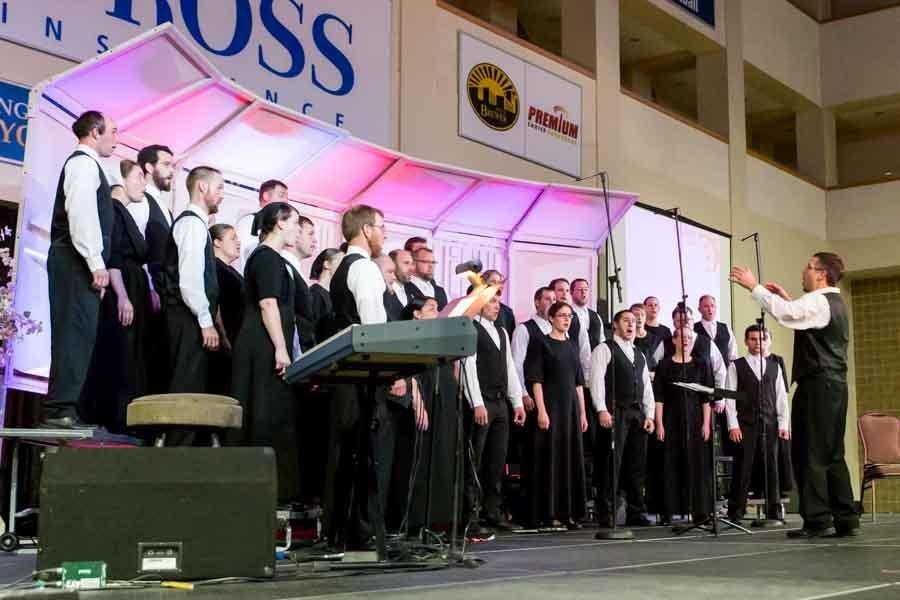 At 6:45 Saturday morning we found ourselves releasing "light sighs on 'ooo'" on the risers of the convention center stage, glimpsing thousands of soon-to-be filled seats spread before us. Our anticipation promoted focused preparation for what we have affectionately named the "Maine" event. Warm ups and hydration complete, we convened backstage for our final line up and the Why Jesus 2016 opening comments. Our first set received a warm welcome.
The two morning apologetics addresses were followed by Oasis's breakout session, attended by a few conference go-ers, in which Wendell Nisly sculpted a creative and revealing vision of the chorale's history, current context, and future plans. (We are blessed with our director's vision of the arts and the Biblical framework from which he leads us.)
Chorale members report greatly enjoying the physically relaxing yet mentally stimulating day. Highlights include David Randy Newman's engaging address and his idea of answering questions with questions, hearing Dr. Ravi Zacharias live for the first time, attending a panel discussion of leading apologists, and, of course, singing!
Preceding Ravi Zacharias's evening address, we premiered "Psalm 67," a choral work specially commissioned for Why Jesus 2016 and composed by Wendell Glick. (A note: we will be performing this piece on our 2016 summer tour to Virginia and the Carolinas!)
The apologetics conference culminated quite appropriately with Wendell Nisly leading the conference congregation in the Doxology hymn.
We are humbled and blessed at the kind reception we received. Audience members commented on the "unexpected style," thanked us for sharing our "gift," and called the musicality "pure and worshipful." On these notes, we ended the day with warm hearts. For surely, it is not unto us, but unto the Lord's name be glory and honor.